TL/DR: Get the scoop on how you can leverage AI video generator tools like Lumen5 to grow your brand at scale! Make thumb-stopping videos in minutes.
Lumen5: Grow your brand and drive demand with video at scale
Are you looking for a way to grow your brand and drive demand with video? Lumen5 is the perfect solution! With our easy-to-use tools, you can create engaging videos that capture attention and get results. Plus, our vast library of templates and assets makes it easy to produce videos at scale. So whether you're a small business owner or a large retailer, Lumen5 can help you take your video marketing to the next level. Contact us today to learn more!
What is Lumen5 and how does it work?
Lumen5 is an AI-driven video creation platform that makes it easy to create powerful, engaging video content. With Lumen5, users can quickly produce high-quality videos by turning text into narrative scenes and adding their own media such as images, videos, and music. Lumen5's technology utilizes artificial intelligence (AI) and natural language processing (NLP) to recognize the structure of the text and suggest relevant media assets as well as automated editing capabilities. For those wishing to create captivating video stories quickly with minimum effort, Lumen5 is the perfect tool.
Why video is an important part of your marketing strategy
Video content is quickly becoming an essential part of a successful marketing strategy. With video having 80% higher click rates than other forms of media, video provides the potential for maximum engagement with your customer base. Your video content should be focused on providing better content than ever seen before and conveying a positive and enthusiastic message to viewers. Keep videos interesting, informative, unique, and entertaining - that way viewers will keep returning to see more! With video playing such an important role in customer engagement, it is vital that video is included in your overall marketing strategy.
How to use Lumen5 to create videos that engage your audience
Lumen5 is a great tool for creating videos that engage an audience. The process is straightforward and can be done without prior video production experience. All you need to do is copy the text from a blog post into Lumen5, let the AI generate a storyboard, pick the best visuals for each frame and edit for specific results. It's that easy! With Lumen5, anyone can create professional-quality videos in no time.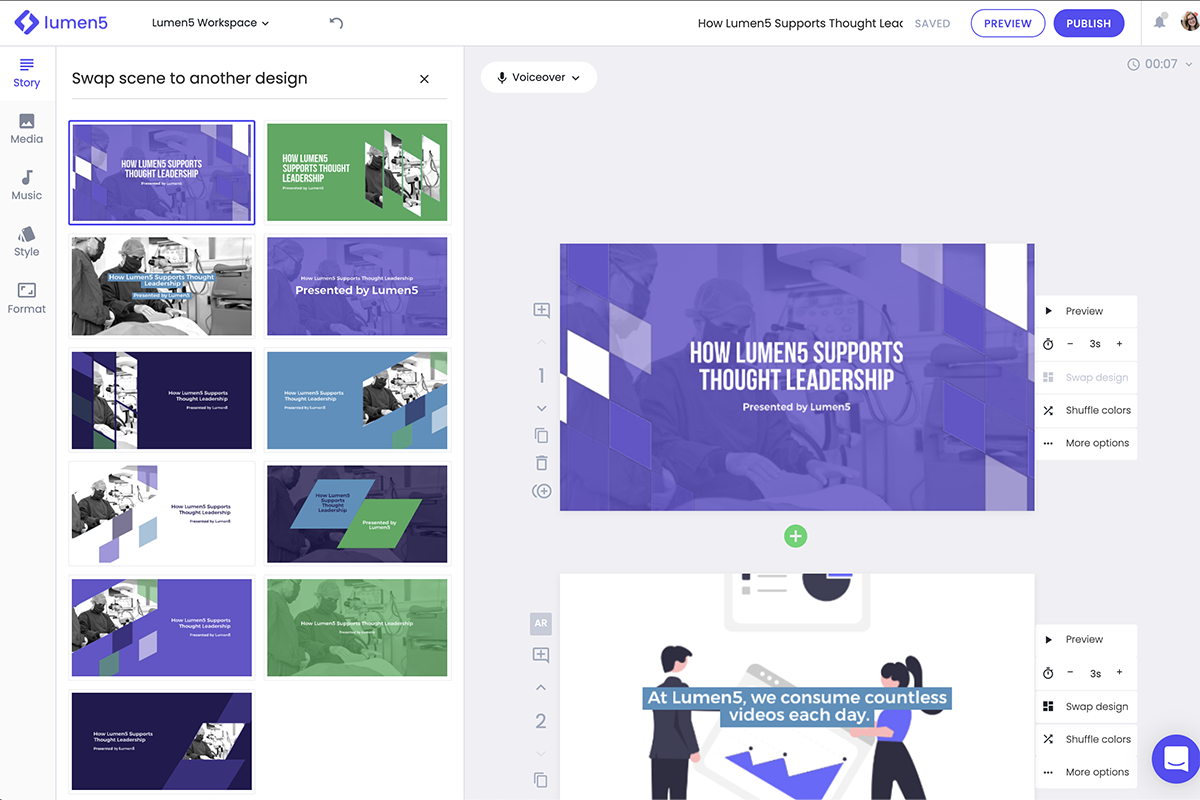 Tips for creating successful videos with Lumen5
Lumen5's video creation capabilities are unparalleled, giving businesses the power to craft stunning visuals and get their message out quickly. However, creating quality videos with Lumen5 is a simple process. To get the most out of the platform, businesses should start by using a quality post first. Ensure content is proofread for errors or double-check that links attached to videos are accurate. Then, get creative and edit images to further drive home points. As videos begin to come together, be sure to highlight keywords on slides as guiding threads throughout a video. By following these tips, Lumen5 customers can maximize the platform's video creation capabilities and create memorable visuals that get them noticed!
How to measure the success of your Lumen5 video
Measuring the success of video campaigns is critical for ascertaining whether video marketing investments are yielding desired results. clicks, as well as engagement such as likes, shares, and comments, should be tracked on websites where videos are hosted. Additionally, link clicks to website visits can be monitored to determine how successful the video was at directing users to your web page. Furthermore, tracking unique views will inform you how many people viewed your video in total and can help you adjust optimization tactics accordingly. By combining these metrics together, it is possible to determine the effectiveness of video campaigns and further refine marketing strategies going forward.
What is Lumen5's Pricing?
Lumen5 offers a price range that starts with a free community tier, but you'll get the best value with either their starter or the professional tier. For just $60 per month, their starter tier provides unparalleled access to Adobe Stock videos and photos, valued at almost the same price as their subscription itself. For only an additional $90 per month, their Professional Tier gives you leverage on industry-level features, like advanced analytics and bit.ly URL shortening. If you're looking for quality multimedia content that won't break your budget, Lumen5's price tiers are worth checking out!
In Conclusion
Video is one of the most powerful tools in a marketer's toolbox. When used correctly, video can captivate an audience and leave a lasting impression. Lumen5 makes it easy to create engaging videos that tell your story and promote your brand. With just a few clicks, you can turn articles into videos that are ready to be shared with the world. What's even better is that you don't need any video production experience to use Lumen5 – anyone can create stunning videos that capture attention and deliver results. If you're looking to increase your marketing ROI, then you need to start creating videos with Lumen5 today.